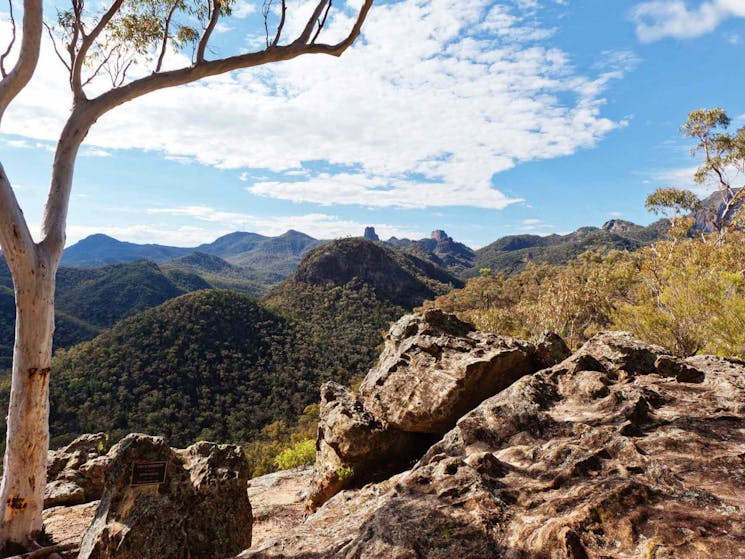 Warrumbungle National Park
Overview
Warrumbungle National Park near Coonabarabran in NSW is a great place for camping, walking, birdwatching and, as Australia's only Dark Sky Park, it's perfect for stargazing. Whether you're into…
Warrumbungle National Park near Coonabarabran in NSW is a great place for camping, walking, birdwatching and, as Australia's only Dark Sky Park, it's perfect for stargazing.
Whether you're into camping, walking, birdwatching, or even astronomy, Warrumbungle National Park, near Coonabarabran in NSW, is a great place for a weekend getaway or longer holiday.
Wildfires in 2013 marked yet another chapter in this great park's history. The National Parks and Wildlife Service (NPWS) has worked hard to rebuild its facilities for generations to come. Walking tracks, campgrounds and other visitor sites have been rebuilt with modern facilities. Drop into the Warrumbungle Visitor Centre for park information or buy a star chart to enjoy the starry nights.
The Breadknife, easily the most recognisable feature within the park, towers 90 metres above the valley floor and is a symbol of the park's enduring importance and resilience. The Breadknife and Grand High Tops walk is recognised as one of the best walks in NSW, with close up views of the park's iconic rock formations.
**To keep visitors safe ALL camping in NSW national parks now requires a booking. For day visitors, please plan ahead and visit outside of peak periods (11am and 2pm). Check park alerts and visit COVID-19 updates for more information before visiting any park – www.nationalparks.nsw.gov.au **