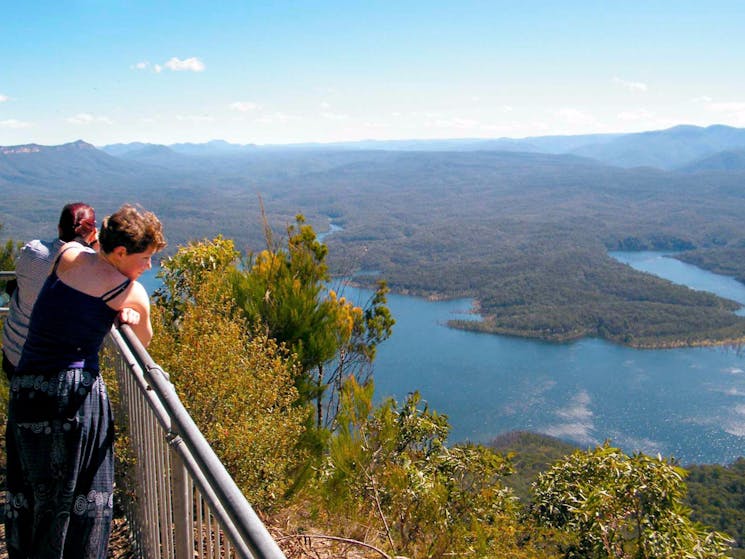 McMahon's Point Ride, Wentworth Falls
Overview
------ Wentworth Pass is closed due to a rockfall on the National Pass. Please avoid this area. For more information, please contact Blue Mountains Heritage Centre on (02)47878877 or visit the NSW…
------ Wentworth Pass is closed due to a rockfall on the National Pass. Please avoid this area. For more information, please contact Blue Mountains Heritage Centre on (02)47878877 or visit the NSW National Parks safety page for park safety guidelines ------
For unending views across Lake Burragorang and the vast wilderness beyond, grab a bike or enjoy 4WD driving along McMahon's Point – Wentworth Falls. A spectacular cycling day trip, this track follows an unsealed road from Wentworth Falls south along the cliff-line. Of medium difficulty, with a number of steep climbs, it's ideally suited to riders looking for a challenge.
After several kilometres the sealed road and suburbs give way to expansive bushland with scenic glimpses of Jamison Valley. Passing the historic Queen Victoria Hospital, the road turns to gravel and winds through forest and heath. On the way stop off at Battleship Tops an Aboriginal site that is slowly being restored by local community groups.
Arriving at the lookout, you're at a height of 500metres above the massive reservoir that supplies most of Sydney's water. After all that exercise and fresh air, enjoy a hearty picnic lunch at the tables provided and drink in the scenic wilderness views.