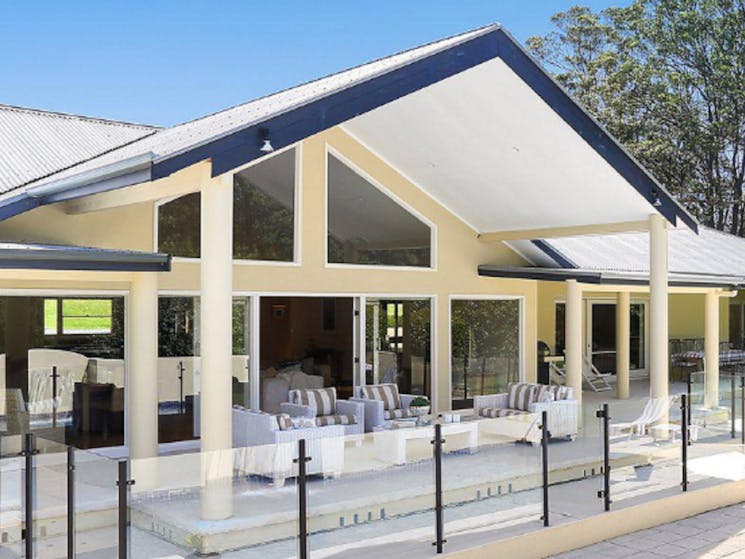 Bella Casa - Berry
Overview
Situated on close to five acres and sleeping up to 15 people (maximum 14 adults), this stunning property is ideal for two-three families or a large group of friends wishing to reunite in absolute…
Situated on close to five acres and sleeping up to 15 people (maximum 14 adults), this stunning property is ideal for two-three families or a large group of friends wishing to reunite in absolute luxury.
The property has three bathrooms and six sizeable bedrooms – all beautifully decorated and offer ducted air-conditioning and soft linen ensuring your stay is comfortable and stress free. The notable main bedroom includes an extensive walk-in-wardrobe, plush spa bath and offers easy entry to the property's pool and multiple alfresco entertaining areas.
Choices of where to dine and unwind are limitless with both formal and informal lounge/dining available, as well as an impressive games room complete with snooker table, library, board games, Smart Television, Wifi, JBI sound system and three seater couches. This ideal space to relax There is a full size tennis court, grassy yard with fire pit and walking track where you are sure to experience some of the area's unique wildlife.
The open plan kitchen boasts state-of-the-art Miele appliances (steamer, microwave/griller, oven and induction stove-top). Access to a barbecue outside by the pool will be great for those summer nights.
With Berry township just around the corner you can experience some of the finest bakeries and cafes in the area while indulging in a bit of retail therapy at the many homeware stores dotted along Queen Street.