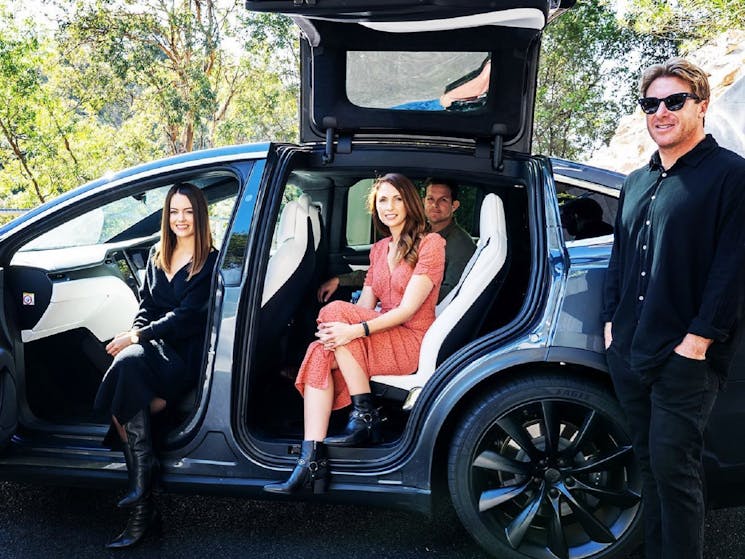 Hunter Tesla Tours
Overview
Hunter Tesla Tours offer state-of-the-art Tesla X Tours. When you book your private Hunter Tesla Tour you can expect a knowledgeable driver and guide who'll be as involved or discrete as you wish. …
Hunter Tesla Tours offer state-of-the-art Tesla X Tours. When you book your private Hunter Tesla Tour you can expect a knowledgeable driver and guide who'll be as involved or discrete as you wish.
This is a distinctive experience touring the vineyards in an all-electric, eco-friendly Tesla X, with access to private cellar-doors and award-winning winemakers, exclusive tables at local restaurants or a designer hamper made to your exacting specifications.
Whether it's an intimate picnic for two, soaking up the sunshine and stunning scenery or an exclusive table in a fine restaurant, they cater to your every need.
Hunter Tesla Tours are a locally owned and operated tour company of distinction. If you're like Leigh, the owner and believe world-class wines and fine foods are not just good for the palette, they're essential for the soul, then Hunter Tesla Tours is for you.
Enjoy a special day touring the Hunter Valley in a luxurious and spacious Tesla X, wining, dining and enjoying the finer things in life.
Hunter Tesla Tours also cater for small corporate groups.
Read more
Read less