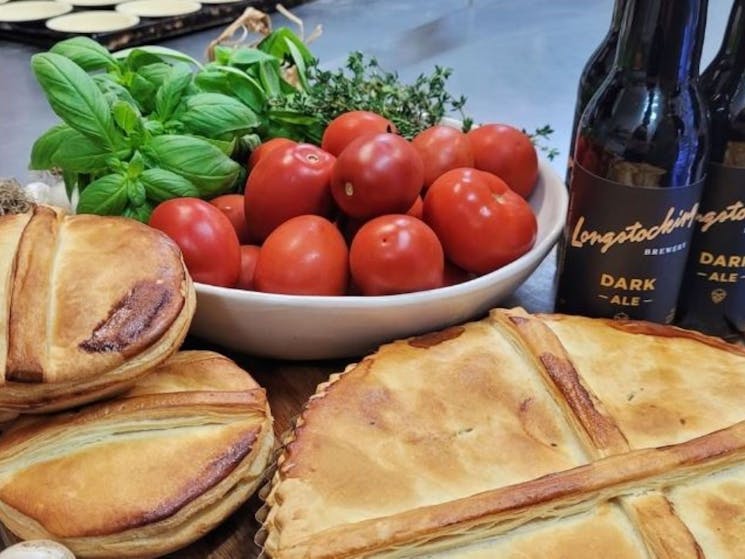 National Pie Month on the Sapphire Coast
Tuesday 22 June 2021 to Wednesday 30 June 2021
Overview
The Sapphire Coast has joined the call to celebrate Australia's National Pie Day on 1 June - a day for Australians to celebrate the humble meat pie. And we're not stopping there. In partnership…
The Sapphire Coast has joined the call to celebrate Australia's National Pie Day on 1 June - a day for Australians to celebrate the humble meat pie. And we're not stopping there. In partnership with some of our tastiest local foodies, we'll be celebrating National Pie Month for the the whole of June and your trail pie-tinerary looks like this.
Visit eatdrinkneighbourhood in Bermagui (6/28 Wallaga Street) and dig in to their Beer & Steer Pie with local beef, local veg and locally brewed Longstocking Ale.
Then, stop in at Merimbula Wharf Restaurant (Lake Street Merimbula) to sample their creation, the Wharfie Pie. It's an ode to their seaside location and chock ful of flathead, ling and Eden mussels (with a Bega cheesy cauli crust). End your Sapphire Coast pie trail journey at Wild Ryes in Pambula (Quondola Street). These high lords of pies are offering up a Spanish themed signature dish, the Pambula Pierdro featuring local lamb, local greens and all made with local love.
And if you still want more - take a road trip to the Southern Highlands, the spiritual home of National Pie Day.