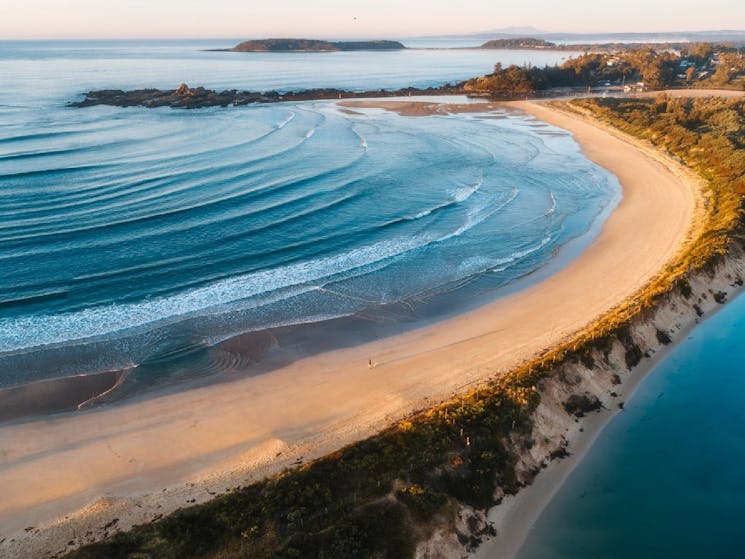 Tomakin
Overview
Tomakin sits on one of the most stunning little patches of coast in New South Wales. Head to Melville Point Lookout for sweeping views in either direction and to help decide where to go next. To…
Tomakin sits on one of the most stunning little patches of coast in New South Wales.
Head to Melville Point Lookout for sweeping views in either direction and to help decide where to go next. To the north are the wide soft sands of Barlings Beach, which curves gently up the coast to Barlings Island. This small rocky island protects the far end of the beach, creating an idyllic place to swim, picnic and snorkel.
At the bottom of the lookout to the south is Tomakin Cove, one of the prettiest little beaches anywhere. Sheltered on both sides, the water here is calm and almost always crystal clear. It's a fantastic spot to swim and snorkel. The cove leads on to the larger Tomakin Beach, which runs to the mouth of the Tomaga River. The entire area is flanked by stunning rocky outcrops which change colour as the sun moves across the sky, and sit in deep contrast to the clear blues of the surrounding water. The wooden jetties of Mossy Point project temptingly across the river, and often call the more adventurous for a quick swim across.
Tomaga River itself is sandy-banked, clean and inviting. Towards its mouth the running tide carves small drop-offs, ideal for jumping from the banks into the water (check the depth first). At low tide, thousands of soldier crabs can be found feeding along the wide sandy flats. From its opening into the sea, the river curls back behind the beaches making an interesting and scenic walk. Pelicans and large stingrays are often around the ramp, and the river shore in this area is a popular place to swim and fish.
Tomakin doesn't have a shopping strip however, the Rivermouth General Store (cafe) is within walking distance of the beaches and has a great surf vibe. There is an IGA supermarket and bottle shop on George Bass Drive. Dining options include Smokey Dan's Restaurant, Bar and Grill which has a relaxed eclectic feel, and the Tomakin Sports and Social Club. Both of these offer entertainment and dining, particularly during holidays.
Read more
Read less