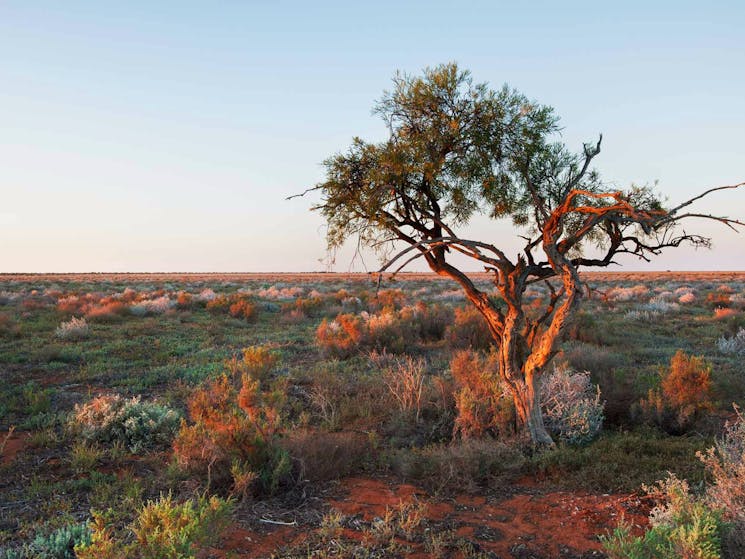 Merton Motor Trail
Overview
Merton motor trail is a 20 kilometre loop that passes through the various spectacular landscapes and wildlife habitats of the park. Whether you're driving or cycling, stop along the way to explore…
Merton motor trail is a 20 kilometre loop that passes through the various spectacular landscapes and wildlife habitats of the park. Whether you're driving or cycling, stop along the way to explore remnants of the area's historic past, both Aboriginal and pastoral. Why not take a picnic lunch and make a day of it?
It's believed that Aboriginal people first came to this area over 45,000 years ago. On the scalds near Halls Lake, years of erosion have uncovered evidence of their daily lives. Keep your eyes open for the remains of oven hearths, stone flakes and broken pieces of grinding dishes.
The trail also passes Merton Outstation. Wander these untouched ruins and consider what life might have been like on this and other isolated outstations of Big Willandra. At Willandra Creek, park and walk 200 metres upstream to the old sheep bridge across which livestock was once herded between paddocks.
**To keep visitors safe ALL camping in NSW national parks now requires a booking. For day visitors, please plan ahead and visit outside of peak periods (11am and 2pm). Check park alerts and visit COVID-19 updates for more information before visiting any park – www.nationalparks.nsw.gov.au **