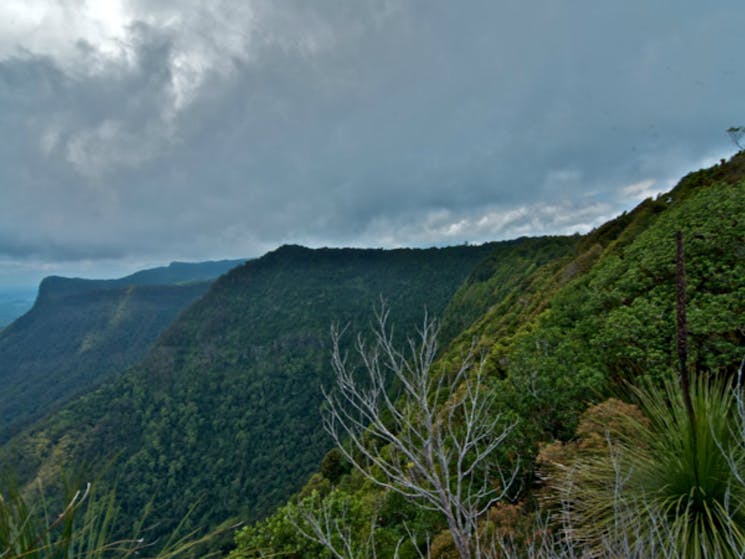 Pinnacle Walk and Lookout
Overview
Take the Pinnacle walk to the lookout for uninterrupted views over the World Heritage-listed rainforest, the crater escarpment, Wollumbin-Mount Warning and the Tweed Valley. Without a doubt, the…
Take the Pinnacle walk to the lookout for uninterrupted views over the World Heritage-listed rainforest, the crater escarpment, Wollumbin-Mount Warning and the Tweed Valley.
Without a doubt, the journey along the Pinnacle walk to Pinnacle lookout is one of the highlights of the whole park and not to be missed.
It's a short walk through World Heritage-listed rainforest before the track reaches Pinnacle lookout. You're bound to be mesmerised by uninterrupted views of the whole park along with spectacular 360 degree views all the way to the coastline, the crater escarpment and to Wollumbin-Mount Warning.
If you're an early riser, and even if you aren't, it's definitely worth making the effort to see the silhouette of Wollumbin when the sun rises – it's a completely inspiring way to start your day in Border Ranges National Park.
**To keep visitors safe ALL camping in NSW national parks now requires a booking. For day visitors, please plan ahead and visit outside of peak periods (11am and 2pm). Check park alerts and visit COVID-19 updates for more information before visiting any park – www.nationalparks.nsw.gov.au **