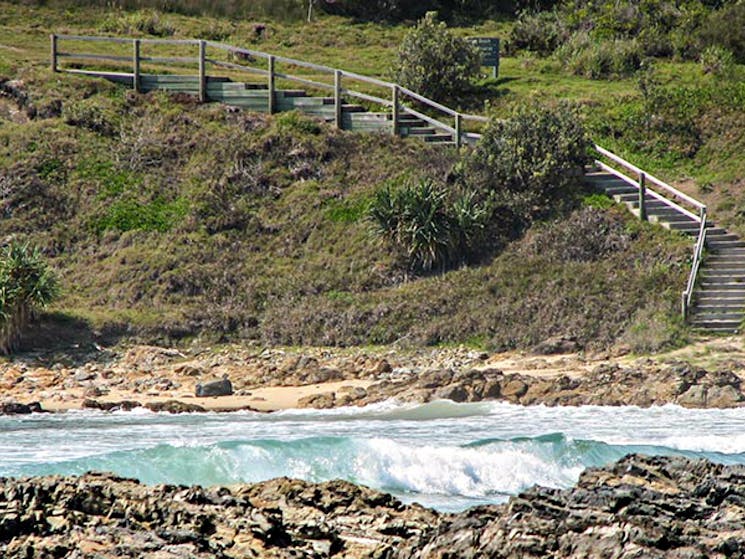 Dammerels History Walk
Overview
When the Dammerel family took the job as full-time operators of the signal station here in 1884, they could not have known what lay ahead over the next 40 years. Apart from extremely hard work, which…
When the Dammerel family took the job as full-time operators of the signal station here in 1884, they could not have known what lay ahead over the next 40 years. Apart from extremely hard work, which the daughters took on as well, the family had their fair share of tragedy, mishap and love stories.
Dammerels history walk is a short easy stroll with a superb view out to Solitary Islands, named by Captain Cook. Learn all about the workings of an historic 19th century lighthouse with a kerosene light and the signal station that provided its only link to the mainland. Hear the story of the Dammerel family and of the collision in 1886 of Keilawarra and Helen Nicoll. Only two bodies of the 48 who died in the accident washed ashore, and their graves are on Dammerels Head.
Watch for wildlife like grazing eastern grey kangaroos, wallabies, goannas and pythons. Pack a picnic and enjoy the scenic views and this fascinating portion of Australian history.
**To keep visitors safe ALL camping in NSW national parks now requires a booking. For day visitors, please plan ahead and visit outside of peak periods (11am and 2pm). Check park alerts and visit COVID-19 updates for more information before visiting any park – www.nationalparks.nsw.gov.au **