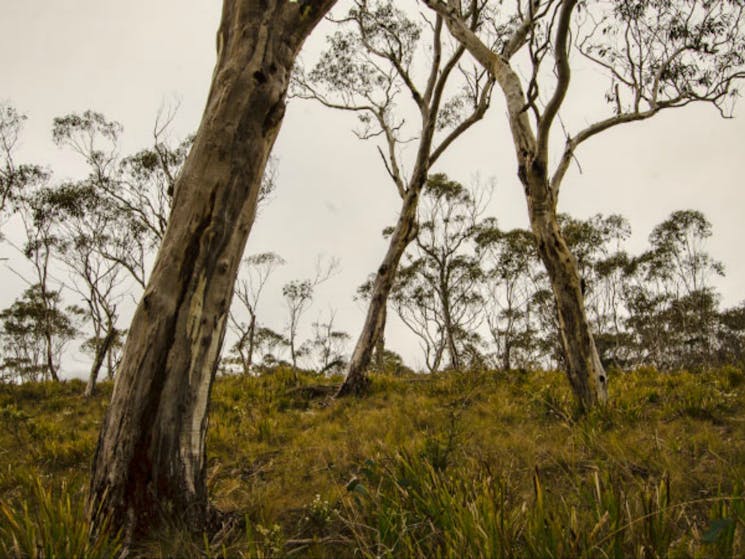 Mountaineer-Glowang trail
Overview
Pining to get outdoors? If you love a challenging walk with spectacular views across pristine wilderness, then look no further than Mountaineer-Glowang trail. This day-long walk, from Wangat Road,…
Pining to get outdoors? If you love a challenging walk with spectacular views across pristine wilderness, then look no further than Mountaineer-Glowang trail. This day-long walk, from Wangat Road, winds through a spectacular array of landscapes, highlighting the best on offer in the southern region of Barrington Tops National Park.
It's all mountain peaks and majestic views as you follow a rippling ridgeline. You'll climb several peaks along this track, including The Mountaineer, with plenty of inspiring views across the vast wilderness region. Passing through blue gum, messmate, and Antarctic beech forests, you'll notice how the vegetation changes dramatically with altitude.
After joining the Glowang trail, you'll enter rainforests of coachwood and sassafrass, before climbing steeply with more spectacular views over the deep Gloucester River gorge. At Mount Nelson, the track descends, giving way to open woodlands before arriving at Gloucester Tops picnic area for a well-earned break.
**To keep visitors safe ALL camping in NSW national parks now requires a booking. For day visitors, please plan ahead and visit outside of peak periods (11am and 2pm). Check park alerts and visit COVID-19 updates for more information before visiting any park – www.nationalparks.nsw.gov.au **