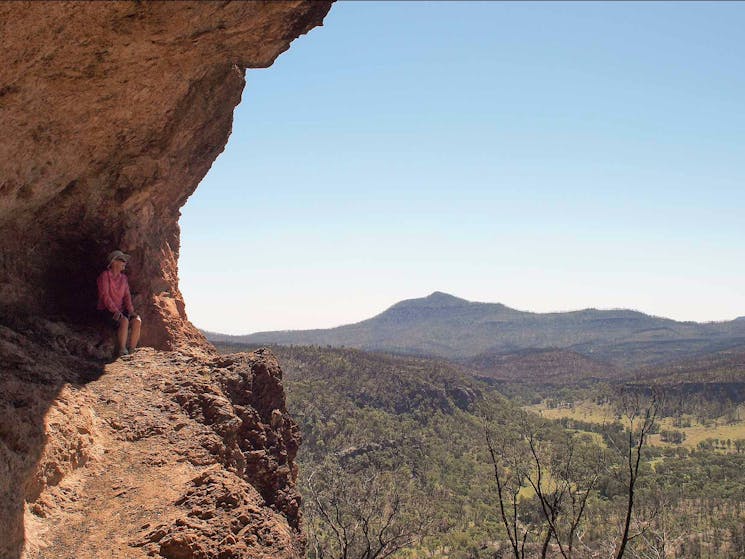 Belougery Split Rock Walking Track
Overview
One for experienced bushwalkers and the older kids, Belougery Split Rock walking track is a moderate challenge with a big reward at the end. Climbing up and around one of Warrumbungle National Park's…
One for experienced bushwalkers and the older kids, Belougery Split Rock walking track is a moderate challenge with a big reward at the end. Climbing up and around one of Warrumbungle National Park's most distinctive peaks, an ancient lava dome, the rough path threads around many obstacles along the way. The final stretch to the summit, for example, involves a scramble up steps carved into the side of a rocky knoll. Be sure to bring plenty of water.
Nevertheless, once you reach the top of Split Rock, all thoughts of exertion fall away. The 360-degree views are spectacular here, showing off Warrumbungle mountain and the seemingly infinite Western Plains stretching off into the distance over an ancient volcanic landscape.
Pack a camera, and maybe a small picnic, so you can settle down and soak up the ambience. You might like to carry some binoculars too, as wedge-tailed eagles live in the area, making this a popular haunt for birdwatching. If you're lucky, you may even spot a shy red-necked wallaby or wallaroo, lazing in the many wildflowers during spring.
**To keep visitors safe ALL camping in NSW national parks now requires a booking. For day visitors, please plan ahead and visit outside of peak periods (11 am and 2 pm). Check park alerts and visit COVID-19 updates for more information before visiting any park **