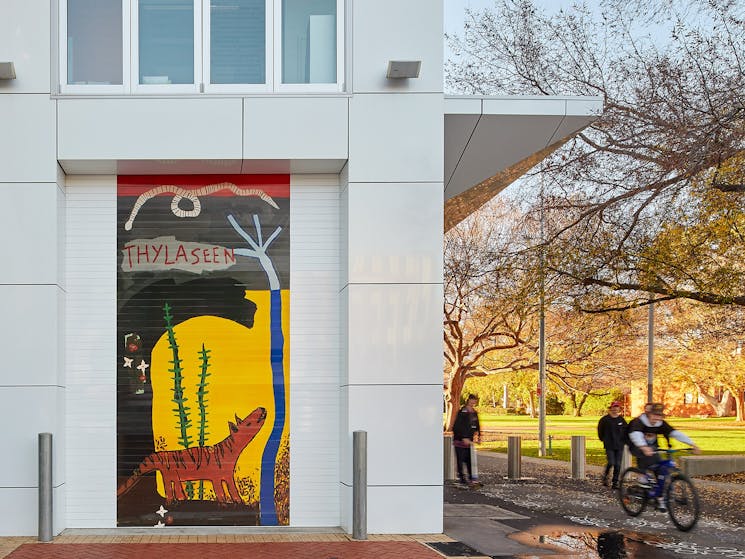 Bethany Thornber: Thylaseen
Friday 04 December 2020 to Sunday 31 January 2021
Overview
Murray Art Museum Albury (MAMA) presents in a brand new commission, Wiradjuri artist Bethany Thornber's large scale installation for MAMA's roller door. Bethany communicates boldly through colour…
Murray Art Museum Albury (MAMA) presents in a brand new commission, Wiradjuri artist Bethany Thornber's large scale installation for MAMA's roller door.
Bethany communicates boldly through colour and a unique symbolic visual language. Her practice queries the selection of environmental areas for protection, the idea of sacredness and our shared responsibility in maintaining natural and cultural places.
The thylacine often features in her work, draws from the sacred Yeddonba site in Chiltern - Mt Pilot National Park. This cultural site holds an ochre painting of a thylacine, sometimes referred to as the Tasmanian Tiger. It is estimated that the last thylacine walked on the mainland over two thousand years ago.
Thylaseen considers the topography of the region and the vast history of all those who have inhabited it.
Caters for people with sufficient mobility to climb a few steps but who would benefit from fixtures to aid balance. (This includes people using walking frames and mobility aids)
Caters for people who use a wheelchair.
Caters for people who are deaf or have hearing loss
Caters for people with high support needs who travel with a support person
Caters for people who are blind or have vision loss