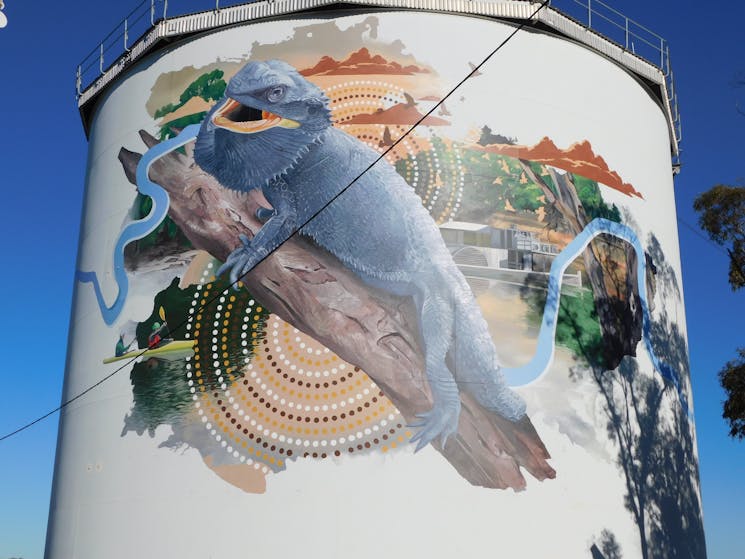 0

1
Narrandera Water Tower Art Trail
Overview
With the best view across town, visitors and residents are able to head to the water tower and immerse themselves in a visual collection of landmarks, activities, flora and fauna that resonates with…
With the best view across town, visitors and residents are able to head to the water tower and immerse themselves in a visual collection of landmarks, activities, flora and fauna that resonates with the community. The stories behind the design include significant icons for the Narrandera Shire Community with the colours inspired by the local environment including the colours of sunsets viewed from this site.
The Lizard – The name Narrandera is derived from Narrungdera, the name of the Wiradjuri clan that inhabited the land where the town now rests, meaning 'place of many lizards' (Eastern Bearded Dragon).
The Koala – a healthy koala population of many hundreds inhabits the riverside forests
The Tiger Moth Airplane – During World War II the No Eight Elementary Flight Training School was established at Narrandera airport.
The Paddle Steamer – From 1858 steamers were a frequent sight on the Murrumbidgee River, PS Wagga Wagga carried wool and stores between Narrandera and Hay for 40 years.
The Oakbank Brewery Tower – Websters Soft Drinks factory site stands 30 metres high
The River – The river and its related waterways; Bundidgerry Creek; Lake Talbot; Wetlands; along with its Red Gum Forests and beaches