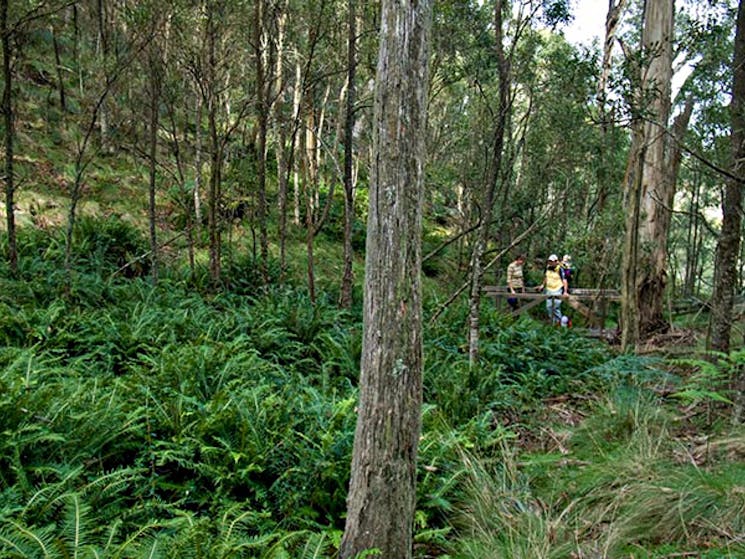 Nature Walking Track
Overview
Nature walking track offers a glimpse of the full diversity of animals and plants in the Mount Canobolas area. Kicking off in a clockwise direction from Walls picnic area, you'll see snow gums tower…
Nature walking track offers a glimpse of the full diversity of animals and plants in the Mount Canobolas area. Kicking off in a clockwise direction from Walls picnic area, you'll see snow gums tower overhead beside candlebark trees, some of which have been around for centuries.
As the track curves around its short loop, you pass heath-fringed outcroppings at the edge of spectacular scenic views. Make sure you pack your camera and a pair of binoculars if birdwatching is of interest. If you're in the area during October or November you might be lucky enough to see a special wildflower display which lasts for about two weeks each year.
The rocky outcroppings are home to a rare lichen community that was listed as endangered in 1995. The lichens survive under very tough environmental conditions, but heavy foot traffic can be devastating, so be sure to take care when crossing the platforms. Beyond the lichens is a scenic valley of fishbone ferns, finishing up a pleasant walk as it takes you back to Walls picnic area.
**To keep visitors safe ALL camping in NSW national parks now requires a booking. For day visitors, please plan ahead and visit outside of peak periods (11am and 2pm). Check park alerts and visit COVID-19 updates for more information before visiting any park – www.nationalparks.nsw.gov.au **