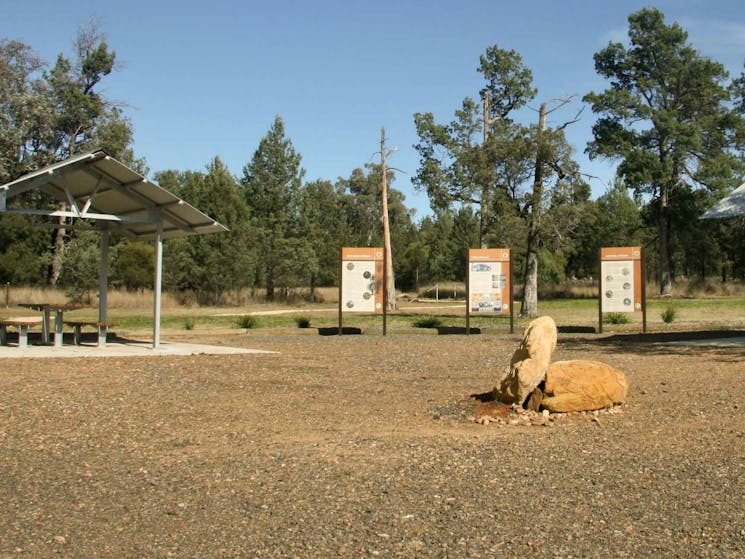 Terry Hie Hie Aboriginal Area
Overview
Terry Hie Hie Aboriginal Area features six significant cultural reserves, with places to picnic, opportunities for birdwatching, and a beautiful walking track. Created in 2005, Terry Hie Hie…
Terry Hie Hie Aboriginal Area features six significant cultural reserves, with places to picnic, opportunities for birdwatching, and a beautiful walking track.
Created in 2005, Terry Hie Hie Aboriginal Area was once an important ceremonial and gathering place for the traditional Kamilaroi (Gomeroi, Gamileroi, Gamileraay) Aboriginal People. Today, it's a tranquil spot, scattered in sections around the small town, which is also called Terry Hie Hie.
Evidence of long-term use of the area includes at least 240 axe-grinding grooves and the remains of a corroboree ground. A bora, several carved trees, scarred trees, and two Aboriginal cemeteries can also be found nearby. The local community and descendants of the Kamilaroi People often visit for cultural, recreational and educational purposes.
Terry Hie Hie Aboriginal Area is home to a staggering variety of native wildlife, including woodland birds, mammals, and reptiles.
Terry Hie Hie Aboriginal Area also has an innovative educational program that provides teachers and students a rare opportunity to learn about the language, history and culture of Kamileroi people.
**To keep visitors safe ALL camping in NSW national parks now requires a booking. For day visitors, please plan ahead and visit outside of peak periods (11 am and 2 pm). Check park alerts and visit COVID-19 updates for more information before visiting any park **