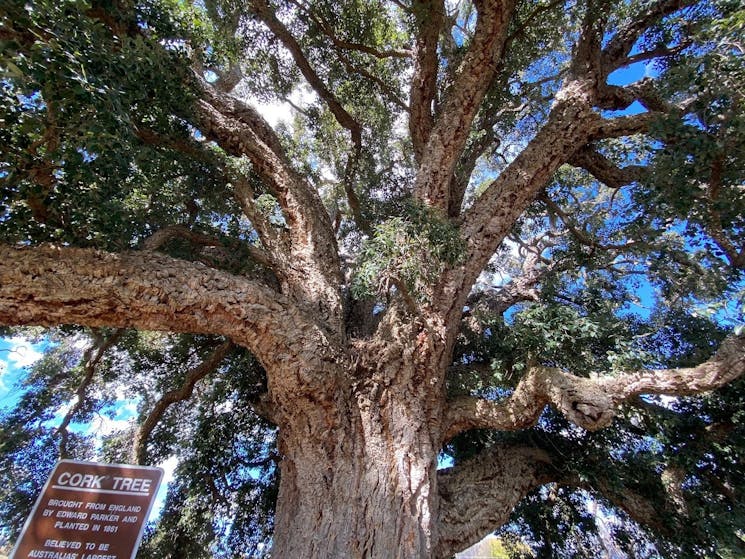 Tenterfield Cork Tree
Overview
Tenterfield is home to a giant Cork Tree (Quercus suber), which was brought out from England in a jam jar in 1861. It still grows today in Wood Street and is believed to be one of the largest of its…
Tenterfield is home to a giant Cork Tree (Quercus suber), which was brought out from England in a jam jar in 1861. It still grows today in Wood Street and is believed to be one of the largest of its kind in Australia. The tree flourishes in the New England climate and enjoys the same lucky reputation as its English counterparts.
For hundreds of years, people have believed that Cork Trees, also known as Wishing Trees, had magical powers to bring good luck to those who observed certain rituals when visiting the trees.
Dating back to the time of the Great Plague of London in 1665, people would travel from all over England to visit the trees, walk around them three times, and make a wish.
Besides granting wishes, cork trees hold exceptional economic value and are farmed extensively in southern Europe. The bark is used for stoppers in wines, gaskets, hockey pucks, golf balls and floor tiles. The acorn is used for propagation, animal fodder and cooking oils. The leaves are a wonderful natural fertiliser and the tannins and natural acids in the wood are used in many chemicals and formulations.
Whether you're making a wish or just standing in awe of its natural beauty, the cork tree is truly magical and well worth a visit.
Read more
Read less
Does not cater for people with access needs.