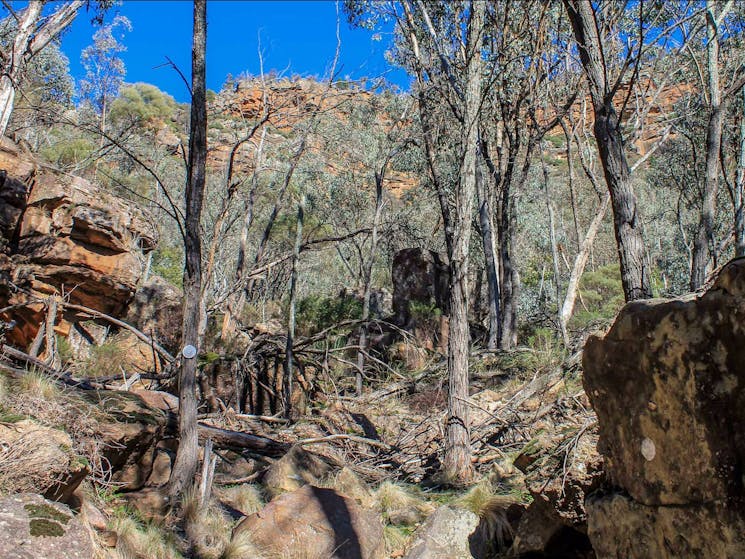 Eualdrie Walking Track
Overview
Situated in Weddin Mountains National Park, near Cowra, Eualdrie walking track follows an old logging trail from Holy Camp. From the base of the mountain you'll climb steeply to Peregrine lookout,…
Situated in Weddin Mountains National Park, near Cowra, Eualdrie walking track follows an old logging trail from Holy Camp. From the base of the mountain you'll climb steeply to Peregrine lookout, where you can look across to the township of Grenfell. As you ascend, enjoy the constantly changing views of the sandstone escarpments and surrounding farmland.
This moderate track, with short steep sections, winds through heath and woodlands dominated by mugga ironbark, black cypress pine, dwyers red gum, and red stringybark. In spring it's the wildflowers of daphne heath, pink five-corners, wattles and grevillea you're most likely to see in bloom.
Wallabies will often be standing quietly on this track blending into the surrounding woodlands of ironbark, black cypress pine and stringybark. You might only notice them when they suddenly dart off through the bush.
**To keep visitors safe ALL camping in NSW national parks now requires a booking. For day visitors, please plan ahead and visit outside of peak periods (11am and 2pm). Check park alerts and visit COVID-19 updates for more information before visiting any park – www.nationalparks.nsw.gov.au **