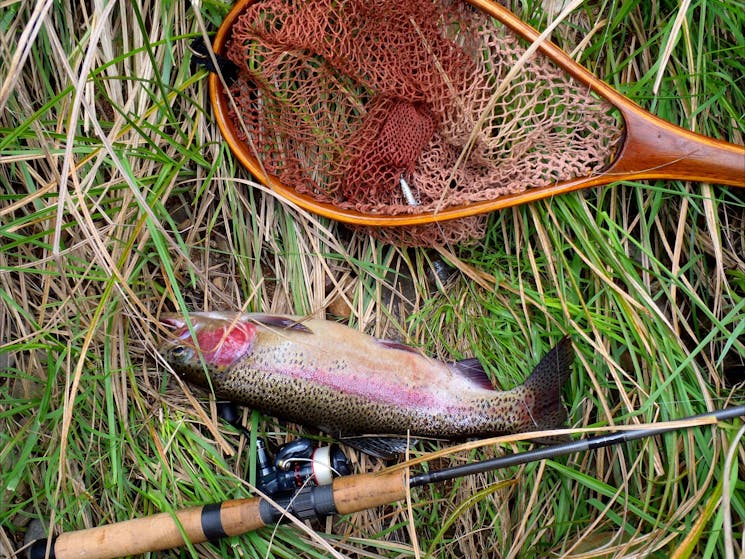 0

1

2
Guyra TroutFest
Event dates to be confirmed: October 2020
Overview
Guyra's three day TroutFest coincides with the Trout Season opening in streams and dams of Guyra and the New England. Held in the heart of Guyra at the Mother of Ducks Lagoon, fishing activities…
Guyra's three day TroutFest coincides with the Trout Season opening in streams and dams of Guyra and the New England.
Held in the heart of Guyra at the Mother of Ducks Lagoon, fishing activities include a children's clinic on fishing essentials culminating in the excitement of catching a huge trout to take home; an adult session follows on after the kids.
Their fishing competitions are suspended this year due to the drought but there's still plenty to do and see.
Saturday is TroutFest's Market Day with food and wine tasting, musical entertainment all day and stalls of every kind plus activities especially for children. The FishCare van has give-a ways. Kids can spot the hidden trout for a reward.
Saturday night is TroutFest's contribution to their drought affected community: a grand night of comedy, music with an Australian flavour designed for both kids and adults. Free Entry.
Sunday is Car Boot Sale day.
Other events include the vivid Craft and Quilting displays, the Art Expo with people's choice prizes, tours of the fish farm and the old Arcadian picture theatre.
Country music at the bottom pub on Sunday afternoon wraps up the weekend.