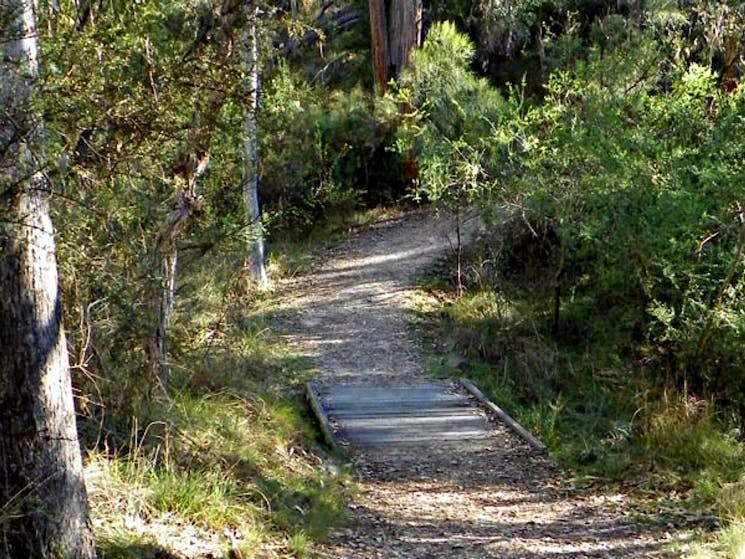 McDirtys Walking Track
Overview
If you like to combine wildlife, waterfalls and birdwatching with an energetic trek, then try the McDirtys walking track. Following the gorge ridge, you can see impressive views of falls country of…
If you like to combine wildlife, waterfalls and birdwatching with an energetic trek, then try the McDirtys walking track. Following the gorge ridge, you can see impressive views of falls country of the northern section of the World Heritage-listed Oxley Wild Rivers National Park from a number of lookouts.
At the lookout directly above Dangar Falls, you'll be spritzed by crystal clear mist after a heavy downpour. Passing heathlands and dry gums, look for eastern grey kangaroos relaxing in the shade, as well as scrub wrens, treecreepers and crimson rosellas.
From the spectacular Rock Wallaby lookout, you'll see unending scenic views of the deep river gouged ravines. Keep your eye out for the rare gorge wattle that clings to the steep cliffs.
Soak up the big open spaces over a packed lunch at any of the lookouts or head back to Dangar Falls picnic area.
**To keep visitors safe ALL camping in NSW national parks now requires a booking. For day visitors, please plan ahead and visit outside of peak periods (11am and 2pm). Check park alerts and visit COVID-19 updates for more information before visiting any park – www.nationalparks.nsw.gov.au **