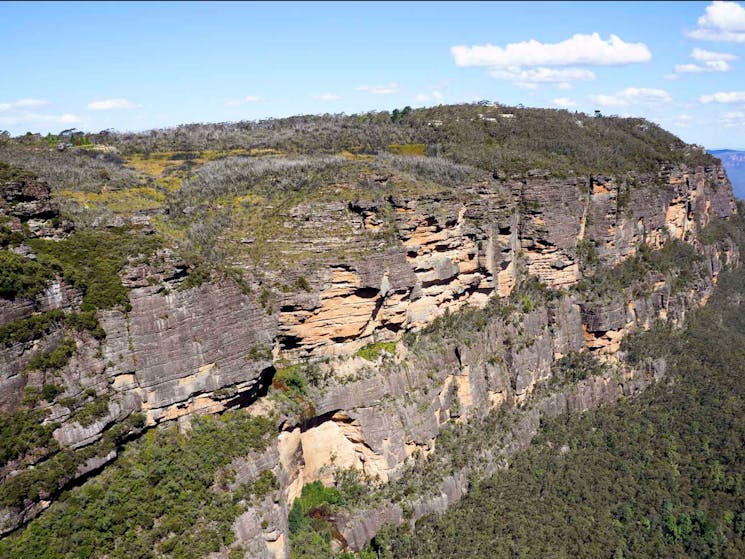 Prince Henry Cliff Walk
Overview
If you're fond of magnificent views, famous lookouts, and iconic scenery, then look no further than Prince Henry Cliff walk, in Blue Mountains National Park. Following the cliff edge from Katoomba…
If you're fond of magnificent views, famous lookouts, and iconic scenery, then look no further than Prince Henry Cliff walk, in Blue Mountains National Park. Following the cliff edge from Katoomba Cascades to Gordon Falls, near Leura, this moderate walking track boasts some of the best views in NSW.
Passing several unique hanging swamps, take a look at the variety of sedges, rushes and grasses. In summer, you may see the beautiful yellow and gold flowers of Christmas bells. With over 20 lookouts offering magnificent views of Jamison Valley and three waterfalls, this track is a visual delight at any time of year. From Echo Point lookout, you'll see the iconic Three Sisters.
Pick and choose the length of your walk, picking up the track at various lookouts along Cliff Drive. Unroll the picnic blanket when you've found the perfect spot and enjoy a picnic lunch with a million-dollar view.
**To keep visitors safe ALL camping in NSW national parks now requires a booking. For day visitors, please plan ahead and visit outside of peak periods (11am and 2pm). Check park alerts and visit COVID-19 updates for more information before visiting any park – www.nationalparks.nsw.gov.au **