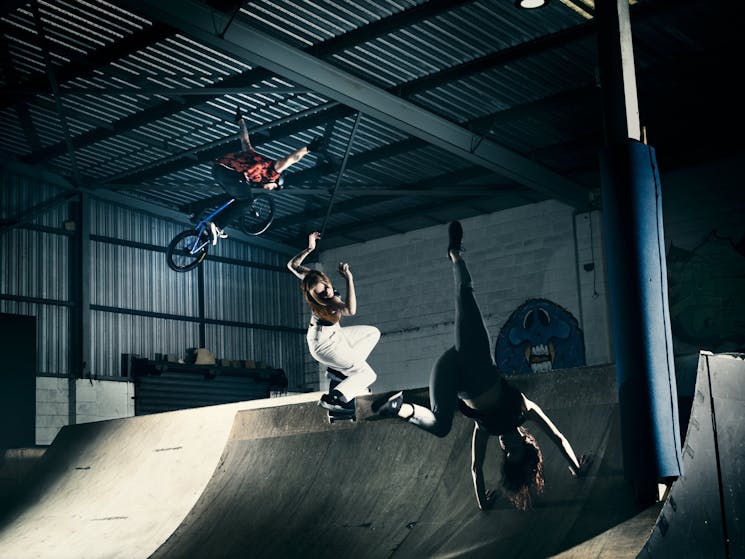 Air Time
Thursday 20 April 2023 to Saturday 22 April 2023
Overview
Merrigong Theatre Company presents a Branch Nebula production: Air Time A stunning mix of precision and anarchy, as breath-taking stunts and movement unfold to a pulsating electronic music score. …
Merrigong Theatre Company presents a Branch Nebula production:
Air Time
A stunning mix of precision and anarchy, as breath-taking stunts and movement unfold to a pulsating electronic music score.
Created by Lee Wilson and Mirabelle Wouters
In Air Time, skate ramps tower over the audience, propelling BMXers, skaters, dancers and parkourists with extreme speed and height. The chaotic street energy sizzles with danger, with the risk of bodies on foot, and bodies on wheels, colliding. The fierce commitment of the performers to reach wild heights while executing stunts with precision is breath-taking.
Branch Nebula brings the virtuosity of street culture into the theatre, with a complex and spectacular show honouring their history and knowledge of the artforms and subcultures informed by nearly two decades of experimental performance art.
This adrenaline-pumping new work is a stunning display of air-born mastery within a vista of colours, light, and shadows, that builds on Branch Nebula's extensive work and outstanding talent.
Read more
Read less
Access and Inclusion Statement
Disabled access available, contact operator for details.