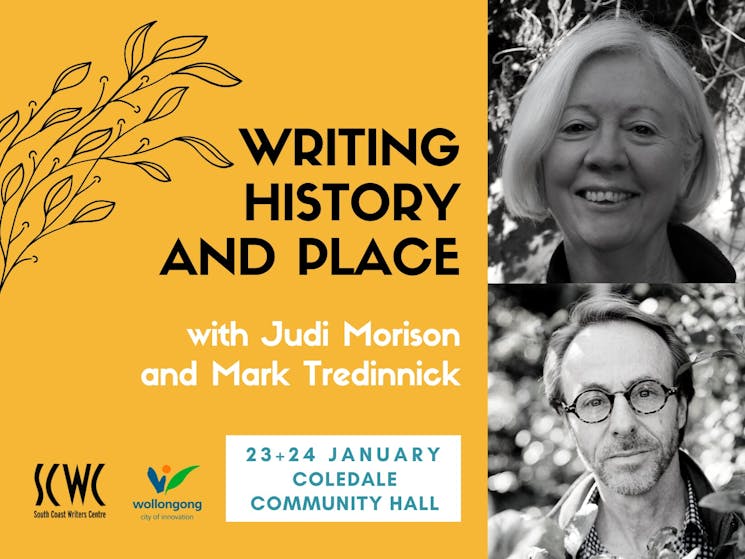 Writing History and Place
Saturday 23 January 2021 to Sunday 24 January 2021
Overview
As part of SCWC's project with Wollongong City Council's Cultural Development Team to develop a mural for Coledale Community Hall, the South Coast Writers Centre invites locals to attend our free…
As part of SCWC's project with Wollongong City Council's Cultural Development Team to develop a mural for Coledale Community Hall, the South Coast Writers Centre invites locals to attend our free writing workshops. Themes and writing from the workshop will go on to inform the design of the external mural on Coledale Community Hall.
PLEASE NOTE: These workshops are free to attend, but registration is required, and attendance is limited to those with a connection to Coledale, including local residents and SCWC members.
Writing Australian History
Saturday 23rd January, 2-4pm
Join Judi Morison for a workshop on Writing Australian History. Beginning with the example of writing a local history of Coledale, and drawing on the individual writing projects of the participants, we will look at what history is and why we write it, where to research and when to stop, and whose history we're writing and who gets to write it.
The Poem and the Place
Sunday 24th January, 12pm-4pm
In "The Poem and the Place" Mark Tredinnick invites participants to explore the practices of attention and expression, of speech music and form that help a poet do justice to the country a poem is set down in. Some poets write landscape because it is their subject. But place is a practice that for many of us comes less naturally than it did.