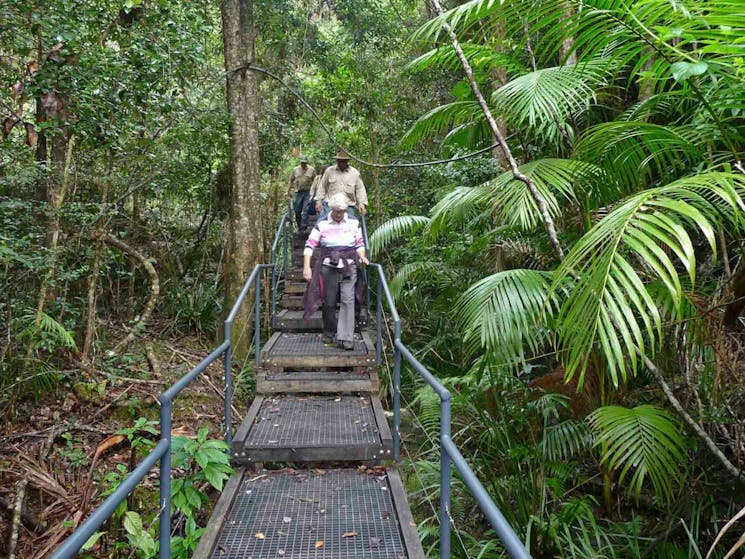 Falls walking track
Overview
Starting at Woolgoolga Creek picnic area, this easy walk meanders alongside Woolgoolga Creek to Woolgoolga Creek Falls. Stroll through subtropical rainforest and admire cascading vines, bangalow palm…
Starting at Woolgoolga Creek picnic area, this easy walk meanders alongside Woolgoolga Creek to Woolgoolga Creek Falls. Stroll through subtropical rainforest and admire cascading vines, bangalow palm and magnificent stands of blue quandong. There are several creek crossings to navigate, so while your shoes will get wet, you and the kids will love the adventure.
Along the way, you'll see a myriad of wildlife such as goannas, pythons and butterflies and might hear the sounds of the threatened giant-barred frog. With over 50 bird species recorded in the Woolgoolga Creek rainforest, this is also a great place for birdwatching. Keep your binoculars handy to spot wompoo pigeons, rose-crowned fruit-doves, brush turkeys and grey-headed flying foxes. 
If you want to learn more, why not take a ranger-guided discovery tour? It's a great way to explore Woolgoolga Creek and get some local knowledge. After your walk, explore more of Sherwood Nature Reserve along Sherwood Forest drive.
**To keep visitors safe ALL camping in NSW national parks now requires a booking. For day visitors, please plan ahead and visit outside of peak periods (11am and 2pm). Check park alerts and visit COVID-19 updates for more information before visiting any park – www.nationalparks.nsw.gov.au **