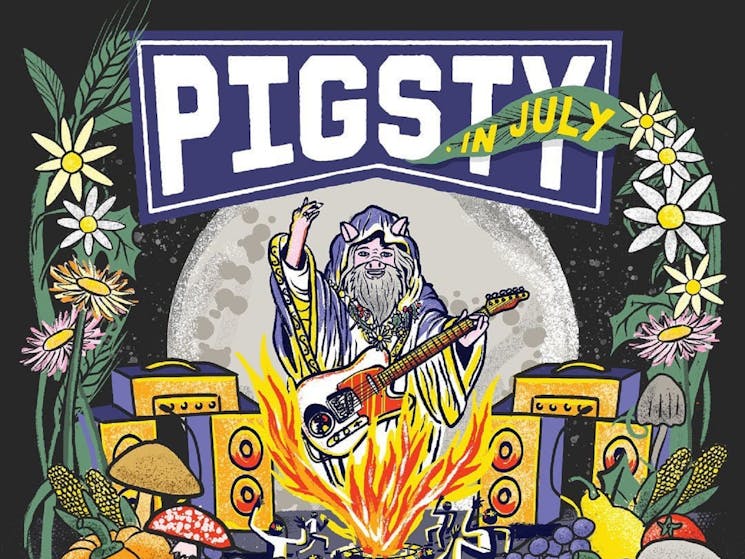 PigSty in July
Saturday 31 July 2021
Overview
PigSty in July is back on the table in 2021, ready to dish up some winter goodness. Get ready to indulge in all things deep, dark, warm and wintery. Feast on local winter harvests, slug on the…
PigSty in July is back on the table in 2021, ready to dish up some winter goodness.
Get ready to indulge in all things deep, dark, warm and wintery. Feast on local winter harvests, slug on the finest of refreshments, roll around on all fours to some exceptional live music and ripen the soul with some big communal bonfires.
The live entertainment includes some great up-beat live bands, including Melbourne's prestigious funk cats Jazzparty, Sydney heavy rockers Front End Loader, everybody's favourite festival band Vaudeville Smash, Hunter psychobilly gurus Casino Rumblers, colonial punk lords The Bottlers, Newcastle heavy rockers Bloody Hell, the one and only Bitchcraft, indie rockers Jet City Sports Club, dad's favourite Punk Rock Hill Billy, Newcastle progressive funk cats Well?, Maitland 60's psych pop rockers Autumn Hearts.
So as per the standard dress requirements, you'll need to whip out your best second hand clobber, finest faux furs (or hand-me-down) and join us down the rabbit hole for the most fashionable night of nights.
Ticket options include a ticket with or without a Dashville style feast. There are also some exclusive group packages which include your own perfectly positioned round table.
This is an over 18's event.
All tickets include the option to camp. However you can also purchase an additional bus ticket if you would prefer to sleep in your own bed.