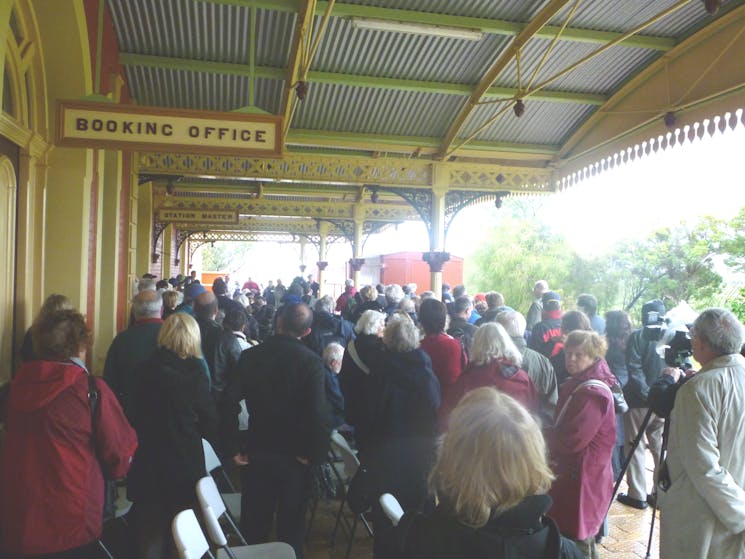 0

1
Dunera Museum - Hay Internment and POW Camps Story
Overview
Dunera Museum at Hay Railway Station was established in 1999 in air-conditioned carriages at the platform. Since then, 43,000 visitors from 32 countries have visited the museum. The station and…
Dunera Museum at Hay Railway Station was established in 1999 in air-conditioned carriages at the platform. Since then, 43,000 visitors from 32 countries have visited the museum.
The station and precinct was the marshalling yard for 6,600 German, Austrian, Australian, Italian and Japanese civilian internees and Italian and Japanese POWs. They were housed in three camps of 1,000 inmates each between 1940 and 1946. They were guarded by 600 members of the 16th Australian Garrison Battalion.
The "Dunera Boys", 1,984 German Austrian, mostly Jewish, refugees, in Britain after escaping from Nazi occupied Europe, became the first internees of British WWII policy. They arrived on 7 September 1940 at Hay Camps Seven and Eight. Their stories are told in the museum with collection exhibits, objects, photographs, memorabilia, and music.
Hay Civilian internment (concentration) and POW camps were built and operated by the Australian Government, and funded by the British Government.
Caters for people with sufficient mobility to climb a few steps but who would benefit from fixtures to aid balance. (This includes people using walking frames and mobility aids)
Caters for people who use a wheelchair.