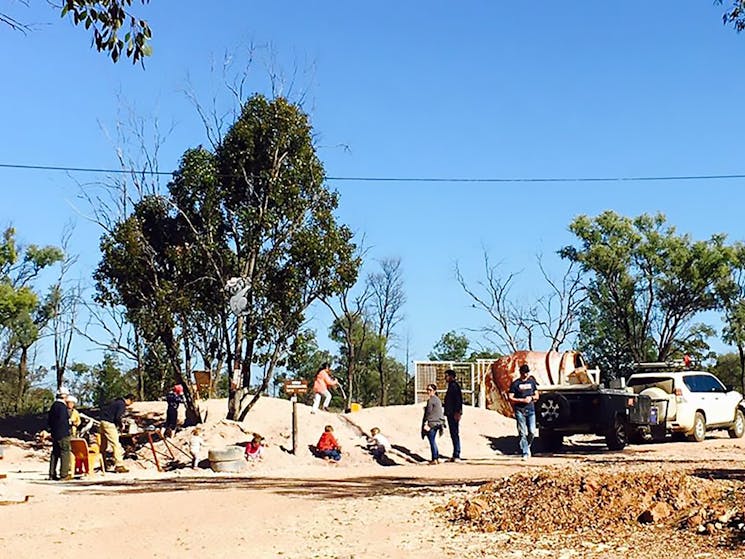 The Lost Treasure Opal Mine Adventure - Lightning Ridge
Overview
Opal Mine Adventure has previously been called the "Walk in Mine." It is the most easily accessed mine in Lightning Ridge. Even a ninety, year old lady was able to leave her walker behind to venture…
Opal Mine Adventure has previously been called the "Walk in Mine." It is the most easily accessed mine in Lightning Ridge. Even a ninety, year old lady was able to leave her walker behind to venture below and… she promised to come and visit again! This is the real deal – originally a working mine.
You'll see underground as the miners do, without the hassles. Lighting supports your visit without detracting from your experience, and wide stairs and rails enable you to take your time. You have plenty to see and do. You also enjoy a movie which highlights the culture of Lightning Ridge and its opal mining industry and also another showing what could happen in a day's mining.
Looking for treasure? There is plenty of Opal to be found in Lightning Ridge, and our fossicking heaps come from our local mines. Of course, as with any search for treasure, typically those who put in more of an effort will have the best odds. Why not work as a team to plan your attack? A group of school students put their mathematical reasoning into practice, and methodically worked the heaps to earn their rewards. If they could find treasures, then what are you waiting for? Before you leave, make sure you return to the showroom to find out how valuable your find really is.
Read more
Read less
Disabled access available, contact operator for details.