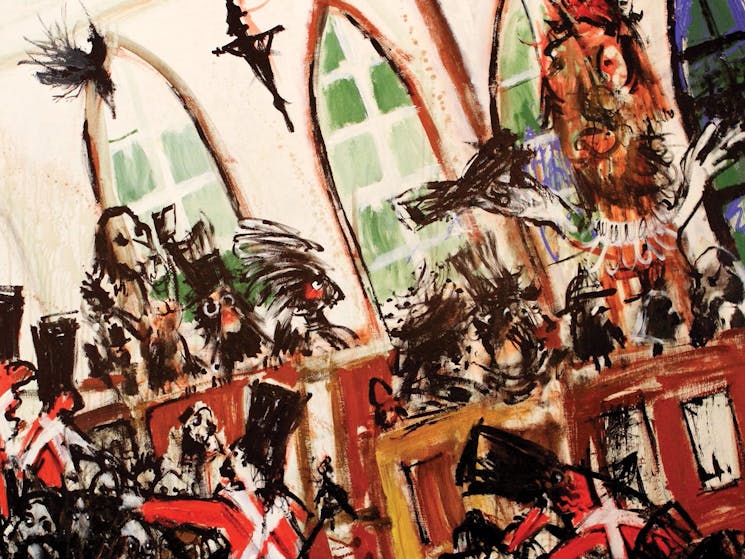 Exhibition: Dreams, Nightmares and Reality by Glenn Dick
Saturday 24 July 2021 to Sunday 05 September 2021
Overview
Exhibition: Dreams, Nightmares and Reality present as a historical anecdote, educational values and the fact of the artistic verve of the individual stories, as well l as the total overview of events…
Exhibition: Dreams, Nightmares and Reality present as a historical anecdote, educational values and the fact of the artistic verve of the individual stories, as well l as the total overview of events of the time. The works portray a sense of futility, inhumanity, brutality and contradictions from the exploratory survey of Oxley, The subsequent displacement of the BIRPAI People when establishing the Penal Colony, through to the first fleet settlers' arrival from 1838. Glenn Dicks own ancestors arriving via "William the Fourth" in April 1841.
The collection of artworks focused on the first 20 years of the settlement and was noted for its sympathetic depictions of the local indigenous tribes and the harshness of the convict system. This collection of works were originally endorsed by Port Macquarie Hastings Council to form part of celebrating Heritage week back in 2005.
The Exhibition originally was staged/featured in the old Civic Centre in Clarence Street and was enthusiastically received by the community with an extension of time for 1 month.
In early 2007 the collection was again exhibited, this time in NSW Parliament House, Sydney. Now displayed once more as part of the 2021 Bicentennial anniversary of 200 years program.