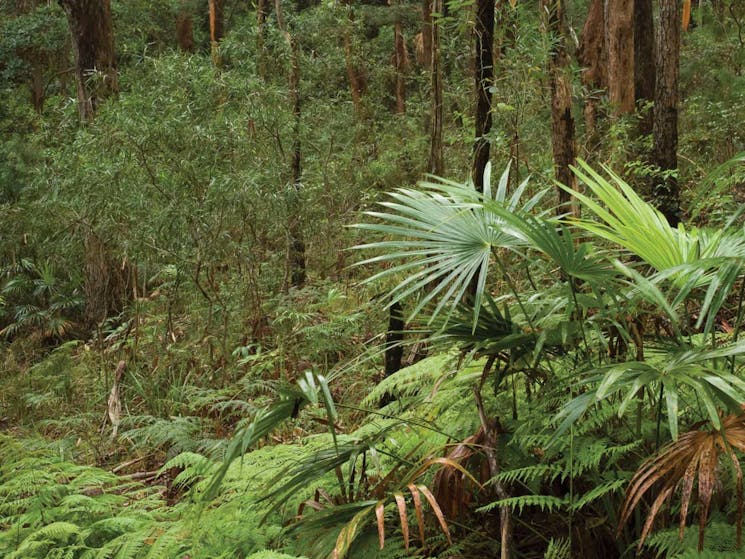 Booti Hill Lakeside Walking Track
Overview
The Booti Hill/Lakeside walking track touches both the ocean and the shores of Lake Wallis, with views from the headland and plenty of wildlife to keep the camera active. Start at Ruins campground…
The Booti Hill/Lakeside walking track touches both the ocean and the shores of Lake Wallis, with views from the headland and plenty of wildlife to keep the camera active.
Start at Ruins campground and travel clockwise, so the hardest part is done. Walk out to the stunning Seven Mile Beach and look for the signposted track – this climbs up the northern side of Booti Hill through twisted eucalypts. There are rest spots along the way, and a small opening with a scenic view of Seagull Point.
The track emerges onto the ridge-crest above Lindemans Cove and joins a fire trail that leads to a small clearing. Go straight ahead for Elizabeth Beach and an opportunity for an ocean dip. If it's winter, you might even spot a migrating whale. There are also tables and a barbecue just 100 metres along the trail.
Back on the main walking track, branching west, cross The Lakes Way for a change of pace. The final 3.5 kilometres of the loop follow the shore of Wallis Lake.
Soon you'll reach a grassy clearing with some marked graves. The Gogerly family are buried here; pioneer fishers once owned the land of the Ruins campground.