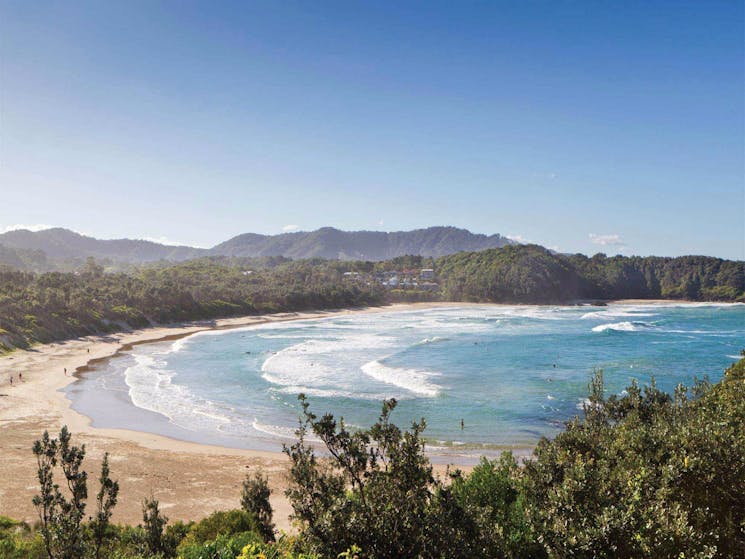 Coffs Coast Regional Park
Overview
Coffs Coast Regional Park, near Coffs Harbour, is a top spot for fishing, surfing and birdwatching. You'll find great picnic areas, plus beaches with off-leash dog zones. It's easy to experience an…
Coffs Coast Regional Park, near Coffs Harbour, is a top spot for fishing, surfing and birdwatching. You'll find great picnic areas, plus beaches with off-leash dog zones.
It's easy to experience an endless summer at Coffs Coast Regional Park. Lose yourself in its string of pristine beaches which together offer everything from unbeatable surf and safe swimming to picnic areas and children's playgrounds.
Explore undulating dunes, rainforest pockets, tranquil lakes, inviting parklands and charming coastal towns along the coastal walk and discover majestic headlands ideal for whale watching and taking in sweeping views of Solitary Islands Marine Park.
Take your pick of outdoor activities – either in the water or along the waterfront. Go fishing, birdwatching or bodyboarding, take your dog for a walk, or find the perfect picnic spot for a memorable family barbecue.
**To keep visitors safe ALL camping in NSW national parks now requires a booking. For day visitors, please plan ahead and visit outside of peak periods (11am and 2pm). Check park alerts and visit COVID-19 updates for more information before visiting any park – www.nationalparks.nsw.gov.au **