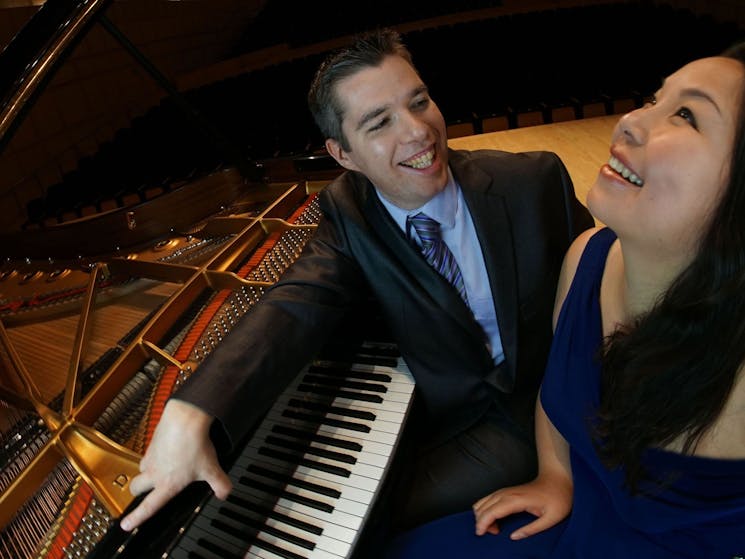 Neeman Piano Duo
Friday 06 November 2020
Overview
Acclaimed for their impeccable musicianship and onstage chemistry in performances across America, Australia and Asia, husband-and-wife duo Stephanie and Edward Neeman delight audiences with a unique…
Acclaimed for their impeccable musicianship and onstage chemistry in performances across America, Australia and Asia, husband-and-wife duo Stephanie and Edward Neeman delight audiences with a unique mix of the dramatic, romantic and whimsical in their recitals. With a wide-ranging repertoire that includes the Poulenc and Mendelssohn double piano concertos and Stravinsky's challenging score for the ballet Les Noces, their recital of 18th and 19th century music on period instruments was named one of the top five concerts of 2016 by The Canberra Times. Both pianists have multiple degrees and doctorates from prestigious American universities and music schools and have been awarded numerous prizes in international piano competitions. This concert includes Schubert's darkly lyrical Fantasia in F minor and Edward Neeman's virtuosic arrangement of music from Tchaikovsky's Nutcracker Suite.
Please note:
If you are unwell on the day of the concert, or self-isolating, or returning from any COVID-19 hotspot, please do NOT attend the concert. Contact the Conservatorium to advise this, and the cost of your ticket(s) to the concert will be refunded.
See Eventfinda for more information.