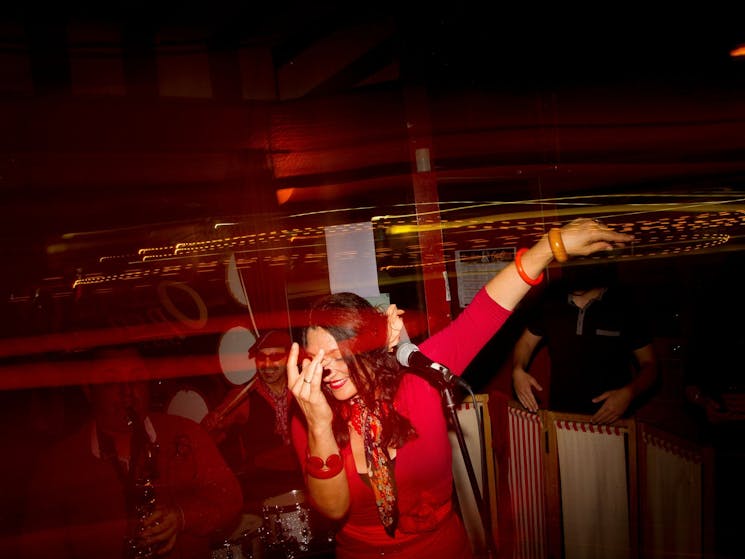 Lolo Lovina
Friday 12 March 2021
Overview
Remarkable, spirited, vibrant Gypsy music at its best! Encounter this intoxicating music brew infused with Unza, Swing and Balkan Gypsy beats that is the widely acclaimed, Lolo Lovina. Created and…
Remarkable, spirited, vibrant Gypsy music at its best!
Encounter this intoxicating music brew infused with Unza, Swing and Balkan Gypsy beats that is the widely acclaimed, Lolo Lovina. Created and fronted by Romani-Gypsy singer and actress Sarah Bedak, Lolo Lovina's music reflects the cosmopolitan identity of an artist who grew up with three native tongues and cultures.
The charming and passionate performance of their charismatic singer makes each concert a unique experience that enraptures audiences. Sarah sources musicians from around the globe to collaborate on recording, touring and artistic projects.
Lolo Lovina have played at the Sydney Opera House, Havana World Music Festival in Cuba, Guca Festival Serbia, through the Pacific Islands, Macau China, across East & West Europe and at SXSW, Austin Texas.
*Wanderlust Concert Series*
Inspire your wanderlust through the world of music and be transported to faraway and exotic places.
Over seven magical Friday nights, these extraordinary concerts explore ancient music traditions melded with contemporary influences from across the globe.
Join us for one, some, or all of these special events, and strap in for a thrilling and uplifting adventure of sound.
Supported by Live Music Australia - an Australian Government initiative.