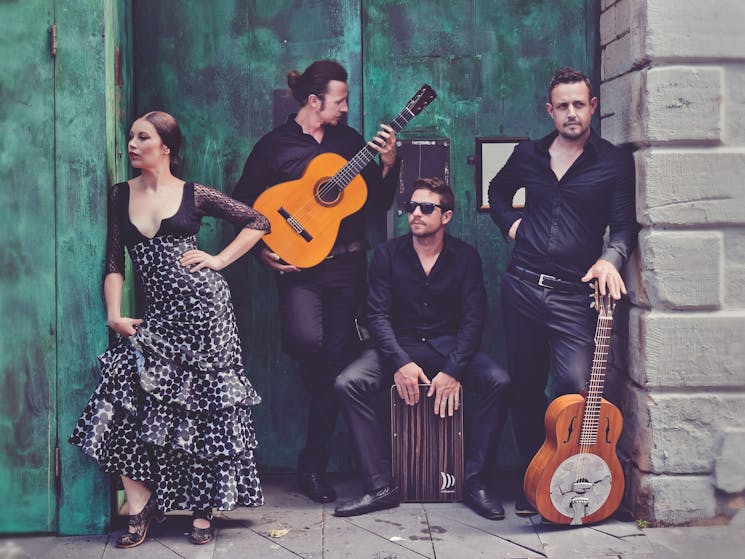 Bandaluzia Flamenco
Friday 19 March 2021
Overview
Bandaluzia are celebrated for their powerful performances, unique sound and explosive displays of dazzling musicianship and virtuosity. Acclaimed modern flamenco ensemble Bandaluzia led by ARIA…
Bandaluzia are celebrated for their powerful performances, unique sound and explosive displays of dazzling musicianship and virtuosity.
Acclaimed modern flamenco ensemble Bandaluzia led by ARIA nominated flamenco guitarist Damian Wright present a spectacular new show that showcases contemporary flamenco dance and music whilst displaying the essential characteristics of the flamenco tradition.
Joining Damian will be acclaimed flamenco dancers Jessica Statham and Rosalie Cocchiaro.
On guitars & mandolin Freedman fellowship winner and National Jazz Awards finalist Ben Hauptmann (Katie Noonan, Gurrumul, Lior) and brilliant percussionist James Hauptmann (James Morrison, Vince Jones, Bluejuice) round out this stellar ensemble.
Bandaluzia are highly revered for their ability to mix elements of other genres into their performances, whether being the rich harmonies of Jazz, the exotic melodies of the Orient or the infectious rhythms of South America. This will be an experience that ignites the senses with the grace of flamenco.
Presented by Blue Mountains Theatre and Music Hunter.
*Wanderlust Concert Series*
Inspire your wanderlust through the world of music and be transported to faraway and exotic places.
Over seven magical Friday nights, these extraordinary concerts explore ancient music traditions melded with contemporary influences from across the globe.
Join us for one, some, or all of these special events, and strap in for a thrilling and uplifting adventure of sound.
Supported by Live Music Australia - an Australian Government initiative.