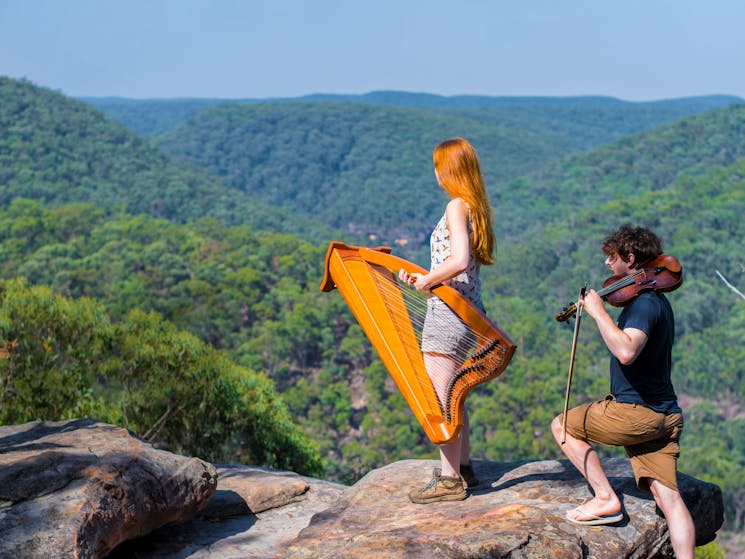 0

1
Palais Performances with Mickey & Michelle + Little Clouds (Emily-Rose Šárkova & Nick Henderson)
Sunday 11 July 2021
Overview
Fusion Boutique Presents 'Palais Performances' Concerts for Listening Audiences. A marvellous listening experience created by Fusion Boutique in the gorgeous Palais Royal Ballroom. Mickey and…
Fusion Boutique Presents 'Palais Performances' Concerts for Listening Audiences. A marvellous listening experience created by Fusion Boutique in the gorgeous Palais Royal Ballroom.
Mickey and Michelle are a harp and fiddle duo from Australia who seamlessly blend contemporary folk and jazz together in a rich, unique style of their own.
Little Clouds are a subtly nostalgic, feel good singer songwriter duo from Sydney, Australia. AKA Nick Henderson and Emily-Rose Sarkova write lofty afternoon inspired hits and introspective midnight bangers, laced with clever lyrics and sweet chords that make you feel real good. And let's be honest – we are all in it for the feelings. They move unassumingly between their multi-instrumentalist personalities of guitar, bass, piano, keys, synths, accordion and vocals. It is intimate. It is real. Journeys will be had.
Guests can enjoy a range of beverages and light meals from the Palais Royal bar on the night, as well as pre-order a cheese plate to be available for pick up on the evening.